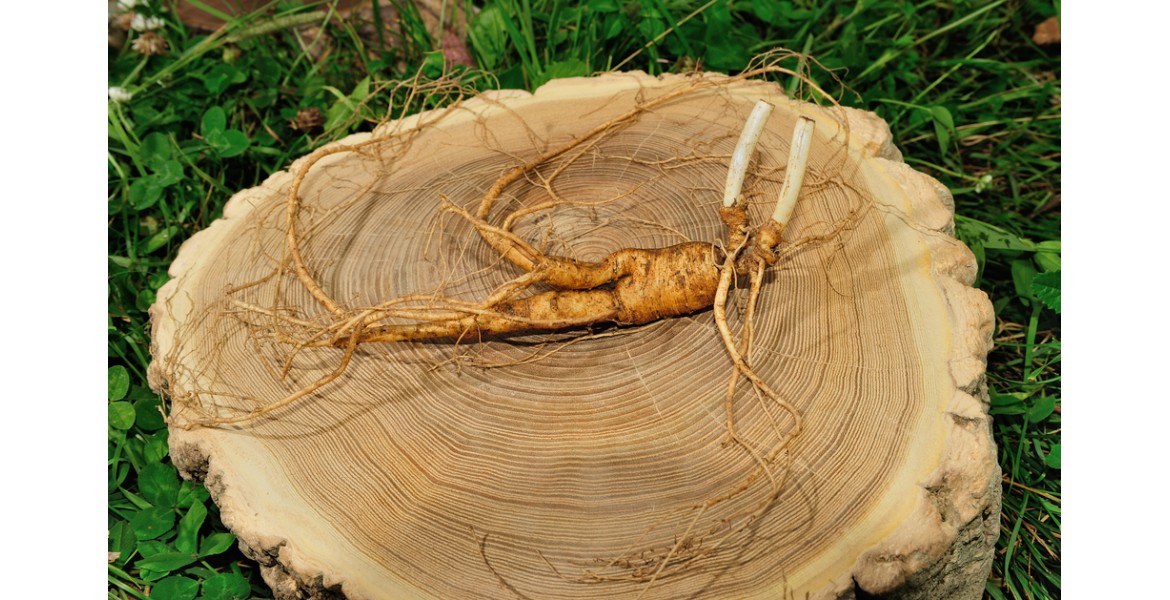 Ginseng is a household medicinal plant in the traditional medicine that has been used as a natural remedy over centuries. The main ginseng species includes Panax ginseng, Panax notoginseng, and American ginseng.
What is Panax/Korean red ginseng?
When it comes to ginseng, Korean red ginseng will instantly come into your mind . This is only because you have heard many times that Korean red ginseng is high-quality ginseng. Most of you don't know why it is.
Korean red ginseng is not literally ginseng grown in Korea. The formal name of Korean ginseng is Panax ginseng (also known as Asian ginseng or Chinese ginseng), and red Panax ginseng is a more accurate term in the scope of botany. It shall be aware that Korean red ginseng is of high quality not because they are grown in the Korea, but because they are processed into red ginseng with rich ginsenosides.
Fresh ginseng with peels is processed by heating and steaming at high temperature and become red ginseng in red color. The heating processing help increase the amounts of rare ginsenosides like Rg3 in red ginseng extract which can deliver greater pharmacological health benefits. Unlike red ginseng, white ginseng is peeled and dried to reduce water content in the air or sun and contains naturally occurring ginsenosides. These prototype ginsenosides in white ginseng are high-molecular-weight and hardly absorbable, thus leading to limited health benefits.
The steaming and heating method increases the rare ginsenoside content in red ginseng. In this process, naturally occurring ginsenosides are converted into rare ginsenosides with low-weight molecules.
The gained rare ginsenosides in red ginseng are more bioactive and absorbable than their parent ones. This is why Panax/Korean red ginseng is considered more valuable and of high quality.
In a word, Korean red ginseng is red Panax ginseng steamed to contain a higher amount of rare ginsenosides. Panax/Korean red ginseng is what you are on the lookout for to boost your health.
What supplements can be considered as best Panax/Korean red ginseng?
Medicinal herbs are useful for promoting overall health due to their pharmacologically active compounds. Unlike ginger that can be standardized to 95% curcumin (the pharmacological active ingredients of ginger), ginsenosides are hardly extracted in large amount. In the current market, Most of Panax/Korean red ginseng brand contain 4% to 20% total ginsenosides which mainly consist of prototype ginsenosides Re, Rb1, Rg1, Rc, etc.
Rare ginsenosides are low-weight molecules with potent pharmacologically effects. Ginseng brand manufacturers are working hard to convert naturally occurring ginsenosides into rare ginsenosides but this serves as a challenge since it involves multiple proprietary biological technologies.
In a nutshell, the best Panax/Korean red ginseng brands are those standardized with a load of rare ginsenosides.
Best Panax/Korean Red Ginseng to buy for 2022
There are plenty of Panax/Korean ginseng brands in the market, and we list some high-end Panax/Korean red ginseng supplements featuring high rare ginsenoside content and guide you to the best Panax/Korean red ginseng in the new year 2022.
1. CheongKwanJang Korean Red Ginseng
CheongKwanJang is a famous Korean red ginseng brand of Korea Ginseng Corporation with a long history of over 120 years. The Korea Ginseng Corporation can be traced back to the year 1899 when it was a Korean government authorized organization responsible for manufacturing and exporting Korean red ginseng.
Korea Ginseng Corporation set a whole manufacturing process of Korean red ginseng, from ginseng planting, cultivation, processing to  production of finished products.  And CheongKwanJan covers a series of products designed for health and beauty, including Korean red ginseng extract capsules&pills,Korean red ginseng extract drink &tea, Korean red ginseng extract liquid, Korean red ginseng tonic, etc.
CheonKwanJang might contain rare ginsenosides. The brand is well-established for using 6-year-old ginseng as raw materials and then processed into red ginseng by heating and steaming. It is typical red ginseng that has kinds of ginsenosides. However, CheonKwanJang doesn't list the standardized ginsenoside content in the label, so it is unclear whether it contains rare ginsenosides or not.
2. Redsenol Noble Ginsenosides
Redsenol is an outstanding Canadian Panax ginseng and ginsenosides brand featuring a high amount of rare ginsenosides in Panax ginseng extract supplement. The research team devoted to ginsenoside research for over 16 years, and developed core technologies to produce rare ginsenosides in large amounts.
Redsenol goes much further in the ginsenoside research. Most manufacturers in the ginseng field only grasp the technologies to extract naturally occurring ginsenoside, known as prototype ginsenosides in ginseng. These prototype ginsenosides are high-molecular-weight and hardly absorbable, and some steamed Korean red ginseng may contain only rare ginsenosides Rg3, Rg5, Rh1. Incredibly, Redsenol contains sixteen types of rare ginsenosides in red Panax extract and the Redsenol research team grasp core technologies to convert naturally occurring ginsenosides into less polar rare ginsenosides. These rare ginsenosides including Rh3, Rk1, Rk2, Rk3, aPPD, aPPT, etc. are 100X more potent than prototype ginsenosides. Redsenol rare ginsenosides products are also available on Amazon.
Amazingly, the rare ginsenosides content in Redsenol-1 noble ginsenosides capsules reaches 20%.
3. BTGin Korean Red Ginseng
BTGin is a Korean red ginseng brand, and it has many product lines with different types of products for different groups of people.
One highlight for BTGin G300 is that the product features enzymatic red ginseng that has better absorption and bioavailability. BTGin G300 features more bioactive rare ginsenoside Rg3. The supplement has 2.5% rare ginsenoside Rg3, within each packet of BTGin G300 containing 50 mg of Rare ginsenoside Rg3.
BTGin also takes 6-year-old Korean red ginseng grown in the Korea and manufactured in GMP-certified facility in Korea.
The newly launched BTGin GINVICHAEK Saponin HANPPURI liquid contains naturally occurring ginsenosides Rb1+Rg1+Rg3(13mg) and rare ginsenosides Rg3 and Compound-K. The red ginseng extracts are from the root part of Panax ginseng.
4. Changbai Mountain Panax Red Ginseng
Changbai mountain Panax red ginseng is the best quality wild ginseng in China. Changbai Mountain has a unique climate and soil for ginseng cultivation and wild ginseng grown in the untrodden Changbai mountain for centuries has higher ginsenoside content and is regarded as one of the most valuable herbs in the world for over 2,000 years. The earliest origin of Chinese ginseng is located in the Primeval Changbai Mountains at an altitude of 2000 meters.
The Changbai Moutains in the Jinlin province, China is home to wild ginseng and it offers hundred-years-grown wild ginseng to the Chinese market. In 2012, a 100-year-grown Changbai Mountain wild Panax ginseng with a weight of 30 grams was sold for a record-high price of about 430K US dollars.
Some studies compared the ginsenoside content originated from Changbai Mountain, the Korea, and Japan. The results showed that the ginseng saponins contained in Changbai Mountain Panax red ginseng are higher than those of Korea-born red ginseng and Japan-born red ginseng.
5. Ginsenbesty Capsules
Ginsenbesty Capsules, developed by Jilin Yatai Pharmaceutical Co., Ltd., features its purified rare ginsenoside Rg3 based on modern pharmaceutical technologies. The founder, also the chief scientist, of the company, devoted in rare ginsenoside research for decades and invented extraction methods of a rare ginsenoside monomer Rg3.
6. Jinxing Capsules
Jinxing capsules is a rare ginsenoside supplement containing 16.2% rare ginsenoside monomer Rh2. Rh2 is a rare ginsenoside monomer metabolized from Rb1 or Rg3 and it is more potent than its parent compound Rg3.
7. Anpu Capsules 
Anpu Capsules is a heath food formulated with ginseng leaf extract, Rhodiola rosea extract, Ganoderma lucidum extract. It is developed by a Chinese Bioengineering Company located in the Jilin province, China. The company owns patented technologies to process Panax red ginseng to extract ginsenoside monomers Re, Rh1, Rh2, Rg2, Rg3 from ginseng stems and leaves. The active ingredients of ginseng leaf extract in Anpu Capsules include rare ginsenoside Rg3 and Rh2.
Where to buy the best Panax/Korean red ginseng?
Although Panax/Korean red ginseng is a small niche, we can still have many places to buy Panax/Korean red ginseng. There are some best red Korean/Panax ginseng supplements on Amazon and Walmart, and you could still find Korean red ginseng supplement stores near you. However, if you do hope to buy a red Panax/Korean ginseng supplement with super high rare ginsenoside content, online shopping from Chinese companies is a must because it enables you to reach out to the best red Panax/Korean ginseng brand and order internationally.
1. Where to buy the best Panax/Korean red ginseng online? 
Online shopping is a good choice if people want to purchase the best Korean red ginseng. Unlike dairy products which we can buy nearby, Korean red ginseng is a relatively small niche with few manufacturers. However, you can always find Korean red ginseng in major online retailers.
Amazon gathers a variety of ginseng supplements. Cheong Kwan Jang, a well-known Korean red ginseng brand is available on Amazon, and it is the top ginseng brand in Korea and uses 6-year-old ginseng as ingredients.
Redsenol Noble Ginsenosides is a Canadian Brand and it is also available on Amazon.
Walmart is one of the dominant online and offline shopping platforms. It gathers many Korean red ginseng brands, although less than Amazon. CheongKwanJang Korean Red Ginseng is available on Walmart.
China is a big market for growing and consuming Panax red ginseng. Chinese people have used ginseng for over 2000 years. As reported before, wild ginseng grown in Changbai mountain for over a thousand years can be bidden worth millions of dollars.
Chinese companies focus on ginseng and ginsenosides research and application. Chinese scientists do plenty of research in the therapeutic use of ginsenosides and they own advanced technologies in the extraction and transformation of rare ginsenosides. Rare ginsenoside Rg3 monomer, a rare ginsenoside extracted from ginseng with potent bioactivity, was formulated and listed as a class A anticancer drug in traditional Chinese medicine.
JD.com is a top e-commerce platform in China, and you can find many high-quality ginsenoside products here. Different from Amazon, JD.com has many ginsenoside products because Chinese companies are motivated to ginsenoside research and development to produce ginseng products with high amounts of ginsenoside content in the competitive market.
Some best red Korean/Panax ginseng supplements may not sell their products on any largest shopping website like Amazon, Walmart, JD.com.  If you do hope to buy a red Panax/Korean ginseng supplement with super high rare ginsenoside content, you could go for their official online store for shopping. For Example, Redsenol Online Store provides worldwide shipping and customers from all over the world can purchase Redsenol Noble Ginsenosides at its official online store.
Since Panax/Korean red ginseng is a very small niche. Some big nutraceutical manufacturers, like nature's way and Jamieson, have many product lines and Korean red ginseng products are also included. However, they are not specialized in ginsenoside extraction and transformation, and their
Panax/Korean red ginseng contains no more than 5% ginsenosides.  Some brands focus on ginseng research for many years and develop superior ginseng products. They might outside your countries, so online shopping is a good way to buy their high-quality products.
Where to buy the best Panax/Korean red ginseng in store? 
Online shopping is not always good for some groups of people. You cannot talk with the sales representatives to know the usage and dosage of Korean red ginseng supplements. Also, you might need to wait many days to receive the product. All these are why people like buying Korean red ginseng offline.
Korean red ginseng is not common like grocery products, so you might have limited options to go for a buy. However, Walmart is always a good shopping place that won't disappoint you. you can find many red ginseng products there although they contain low content of ginsenosides which are not what you expect. In addition to Walmart, you can also buy Korean red ginseng in the top nutrition and vitamin stores like
GNC
CVS Pharmacy
Walgreens
Nature's Bounty
Rite Aid
Chinatown is a good place to buy red Panax ginseng. There are many Chinese herbal medicine stores and you can find high-quality Korean red Panax ginseng there.
Some best Panax/Korean red brands are targeted at global customers so they have many branches over the world, and customers can go ahead for their local stores or retail locations.